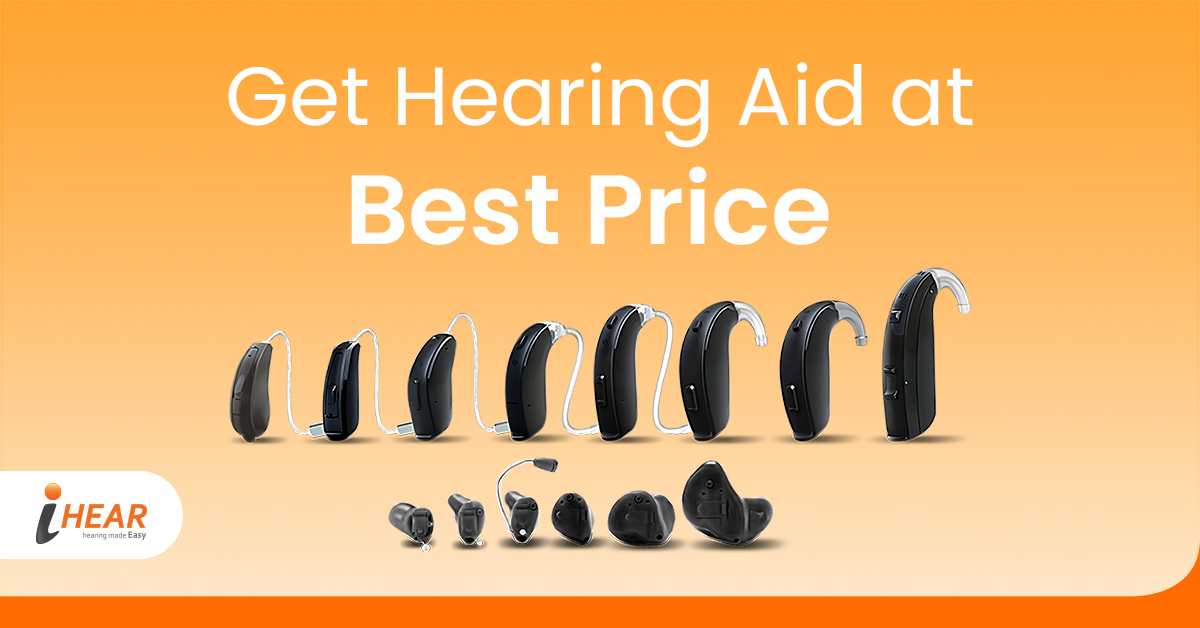 Hearing aid price in Kolkata
When we are thinking about the price of Hearing-aid in Kolkata then the first thing comes in our mind is iHEAR. The brand which provides value for money product all the time. Not only that but also they take the responsibilities for the after-sales services of those products.
The iHEAR hearing aid is one of the best hearing aid prices in Kolkata; our hearing aid comes with high gain & high power for mild, moderate-severe loss sturdy and good looking housing with an attractive finish. Top-mounted unidirectional electrets condenser microphone for reliable operation 3 position switch ihear hearing aids our products to range from in the canal hearing instruments to behind the ear hearing instruments.
In India, we have successfully implemented a unique hearing care center hcc concept. A Siemens authorized hcc provides a complete range of hearing healthcare services to all types of hearing instruments dispensing facilities, all under one roof. Our hccs are associated with leading ent doctors, audiologists and hearing healthcare professionals.
Siemens offers a broad range of hearing aids for every lifestyle and all configurations of hearing loss including completely invisible, waterproof and rechargeable hearing aids and wireless solutions that connect hearing aids wirelessly to mobile phones, TVs, mp3 players, and other audio devices.
There are different types of hearing aids to choose from depending on the size, shape and looks.
BTE -Behind the ear Hearing-aid Price in Kolkata
The hearing aids behind the BTE-ear provide a hearing-impaired experience. Available in two models on the back of the ear, the new Fun Hearing Aids provides superior amplification for patients with severe or deep hearing loss. Equipped with proven hearing aid technology you expect from Siemens, the fun covers all the essential customer needs and delivers great sound quality. They are simply mounted on a simple rock switch and offer a high level of comfort. With fun, you have a solution that provides a great listening experience.
The price of BTE -Behind the ear Hearing-aid price in Kolkata is great because of some important features like fits all degrees of hearing loss, including profound hearing loss usually available in models with wireless connectivity to devices custom-fit ear mold, can be replaced separately less susceptible to moisture damage.
Open-RIC Hearing-aid Price in Kolkata
Receiver in the canal (RIC) or open hearing aids can be seen as the newly launched higher powered and technologically advanced hearing aids. They are now a popular type of hearing aids, as they combine many of the benefits of hearing aids (BTE), such as sitting partially behind the ear and therefore enable the adoption of a lot of clever technology adopters into the new generation of the canal (RIC) or open hearing aids. It can be viewed as high-powered and technologically advanced hearing aids.
The price of Receiver In Canal (RIC) hearing aids are high due to their features like Auto Sense Os, Advanced Sound Recover, UltraZoom Advanced, Noise Block Essential, Whistle Block, Auto Acclimatization, Tinnitus, Balance Noise Generator & Fully Wireless.
ITE-Full Shell Hearing-aid Price in Kolkata
In-ear hearing aids are the ultimate in personalized hearing care – the perfect blend of elegant design, optimal comfort and unparalleled sound quality. Some types of ITE fit very deeply into the hearing aid ear canal; When the Half Shell designs fill half the bowl on the outside of the full shell design, it fits perfectly in the ear.
The price of hearing aid in Kolkata of ITE -Full Shell Hearing-aid Price is best for features like Bluetooth, Water Resistant, For mild to severe hearing loss, 10 Hearing Aid Channels, 4 Hearing Aid Programs, Variety of colour options available, Custom Ear Mould, Hearing Aid App, FM Compatible, Volume Control Acclimatization & Specific noise reduction program.
ITS- Half shell Hearing-aid Price in Kolkata
Half-shell in-the-ear hearing aids are an effective and convenient technology for individuals with mild to severe types of treatable hearing loss. It is easy to place and adjust because it sits comfortably in your outer ear but snugly.
Advantages are Discreet, Comfortable, Easy To Use, Natural Use with Telephones, Easy to Insert/Remove
CIC – completely in canal Hearing-aid Price in Kolkata
CIC (full canal) hearing aids are part of the can hearing aid. This type of hearing aid is mounted on a canal and only an outer part is visible from the outside. CCI Hearing Aids is a custom fit to your unique anatomy using ear canal imprints to achieve maximum comfort and sound quality. They come in a variety of skin tones that are completely canal hearing aids so they are not noticeable during wear. They are easy to move with a small, transparent cable.
Advantages are Custom design as per individual, less visible, User-friendly, Longer working life & 2 years international warranty
IIC- Invisible in canal Hearing-aid Price in Kolkata
IIC (invisible to the canals) is part of hearing aid can hearing aid. In this type of case, hearing aids are kept completely inside the canal. It disappears from the outside. The prices of IICs may vary according to different models and companies. It starts from around. Rs.56000 per unit per Rs. 250000 per unit. We need someone's custom ear impression to create any type of canal hearing aids.
Discreet & longer battery life and more features than IIC and CIC styles.
If you research your market closely you can easily short out some cheap price hearing aid but if you consider with the price you are considering with your life as well so it's our humble request to perches the product considering it with your health point of view, not only from our shop but also another shop.

Hearing aid pricing includes the cost of the device as well as the services of professionals.
Some of the costs involved in producing hearing aids are from research needed to keep up with technology's progress every year. Millions of millions of dollars are spent each year by the industry to improve how these devices perform. These investments lead to hearing aids that improve people further.
There are different types of hearing aids to choose from depending on the size, shape and looks.
BTE -Behind the ear
Open-RIC
ITE-Full Shell
ITS- Half shell
CIC – completely in canal
IIC- Invisible in canal
| | | |
| --- | --- | --- |
| Brands Price List | Check Price List | Buy Now |
| | | |
| | | |
| | | |
| | | |
| | | |
| | | |
| | | |
| | | |
| | | |
| | | |
| | | |
| | | |
| | | |
| | | |
| | | |
| | | |